Follow our news
In French only
28/02/2020
Discover the SHORE project: Assessing the health of assemblies on offshore wind turbines through video monitoring with interviews with IRT Jules Verne, General Electric and Gustave Eiffel University. The objective of this project is to identify an optimal monitoring method to assess the health status of the targeted assemblies and welded assemblies (e.g. loss […]
28/02/2020
The IRT Jules Verne & its partners Airbus, Loiretech & Fives Machining inaugurated, on Thursday 13 February, the automated manufacturing line for textile composite preforms MADRAS in the presence of Stéphanie Houel. The implementation of this 18-metre long line including three robotic islands marks a key stage in the WING project. Launched in […]
21/01/2020
Discover the WING project: High volume deposition & preforming line in video with interviews of Airbus, Fives & Loiretech. The objective of the project is to evaluate the capacity of textile technology to meet the high production rates of the aeronautics industry for large parts with complex geometry and dimensions. Research topics include: preform […]
6/01/2020
Click below to discover our New Year's greetings: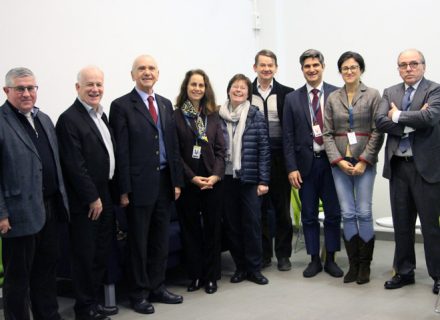 22/11/2019
The Scientific Council of the IRT Jules Verne held its annual meeting on Friday 22 November 2019.
14/11/2019
Les 13 et 14 Novembre, l'IRT Jules Verne prenait part à Composites Meeting, la convention d'affaires incontournable dans le domaine des matériaux composites organisée par le Pôle EMC2 et ABE.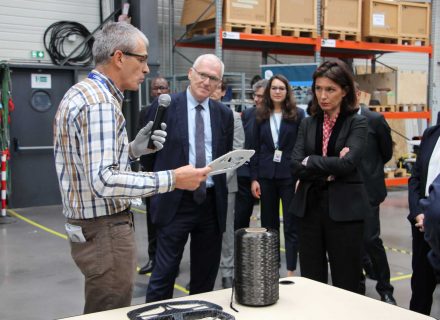 14/10/2019
Jean-Bernard Lévy, Président Directeur Général d'EDF, accompagné de Christelle Morançais, Présidente du Conseil Régional des Pays de la Loire, est venu visiter les nefs technologiques de l'IRT Jules Verne le 4 octobre dernier.
11/10/2019
Depuis 2013, les IRT (Instituts de recherche technologique) se réunissent chaque année à l'occasion du Forum des IRT pour présenter leurs résultats et leurs réussites majeures devant leurs partenaires, leurs tutelles, leurs collaborateurs et les institutionnels.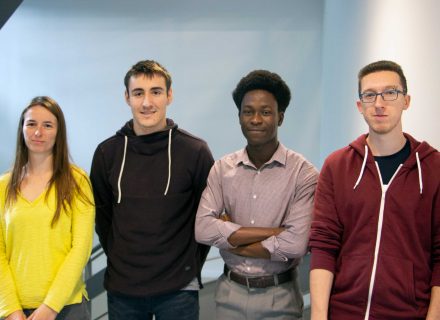 10/10/2019
Le programme PERFORM est un programme de thèses permettant à l'IRT Jules Verne de préparer son avenir en s'appuyant sur une analyse prospective des besoins des industriels donnant naissance à des thématiques d'intérêts communs. Des sujets sont ensuite proposés par les académiques sur ces thématiques permettant de lever des verrous technologiques.