Careers
The « IRT Jules Verne adventure »
At IRT Jules Verne, the quality of "working together" and the development of our employees are strong strategic issues for the collaborative research activity that we conduct. To carry out our mission with efficiency and performance, we are looking for talented women and men ready to invest in the future of our company. Whatever your background, experience or skills are, you can contribute to this collective success. We offer you a dynamic and motivating work environment, in research and administrative functions. Do you want to be part of the adventure? Join the #JVTeam!
Our values
Boldness, collective intelligence and agility are the 3 values embodied daily by the women and men who work at IRT Jules Verne.
For us, boldness translates into the risk-taking ability to fully invest in the competitiveness of the industrial world and to imagine real technological breakthroughs.

Agility. A strong will to adapt in a changing context, taking into account everyone's interests with tailor-made solutions according to the challenges of our partners.

Collective intelligence.

It represents our ability to make multidisciplinary and complementary skills work together in synergy, to get the best out of innovation.
5 good reasons to join IRT Jules Verne
You are unique, and so is your mission
At IRT Jules Verne, your position is adapted to you: we are convinced that a committed collaborator is above all a collaborator fulfilled in his work. Thus, we let our teams operate with great autonomy to allow the emergence of new ideas. You are the actor of the evolution of your missions and skills, according to your desires in accordance with the strategy of the institute.
Combining the best of innovation
IRT Jules Verne revolutionizes the world of research with its hybrid public-private business model, focused on the needs of industrial partners. We put collective intelligence and collaborative innovation at the heart of our activities. We conduct applied and innovative research that brings together a range of expertise and major French industrial sectors. For our employees, this dimension offers the unique opportunity to work across disciplines with other research teams, on a variety of subjects, with state-of-the-art resources and equipment. This is a way for everyone to stimulate their curiosity, to continue learning and to develop new skills.
A stepping stone for your network in France and beyond
Working at IRT Jules Verne offers an unprecedented opportunity to enrich your network, with major French and international industrial actors, SMEs and technical centres. In our R&D projects, contacts are rich and varied with a high-level scientific community. Our partners include some of the biggest names in the industry: Airbus, DAHER, Naval Group, Les Chantiers de l'Atlantique, Groupe PSA, EDF, GE, etc. We are also supported by leading research institutes: CNRS, CEA Tech, IMT Atlantique and Ecole Centrale Nantes. Around fifteen small and medium-sized companies in the Région Pays de la Loire work alongside us, including Loiretech, Axiome and Europe Technologies. IRT Jules Verne has a strong presence on the international scene and is involved in several European R&D projects, alongside major partners such as the Aimen Technical Centre in Spain and the Technical University of Munich (TUM).
A flexible human-sized structure

Our staff of around 135 employees is synonymous with listening and exchanges with the management team, but also agility and responsiveness in the decision-making process.
Life tasting like « Petit Beurre » cookie from Nantes
Last but not least, working with us means opting for the Nantes lifestyle, one of the most dynamic cities in France, which combines the strength of a historic industrial anchoring, the pleasure of French toast in the morning and the gentle sea breezes on the weekend…
The women and men of IRT Jules Verne
Our team is made up of passionate employees, and every year we integrate women and men who come to reinforce the research teams or the R&D support functions.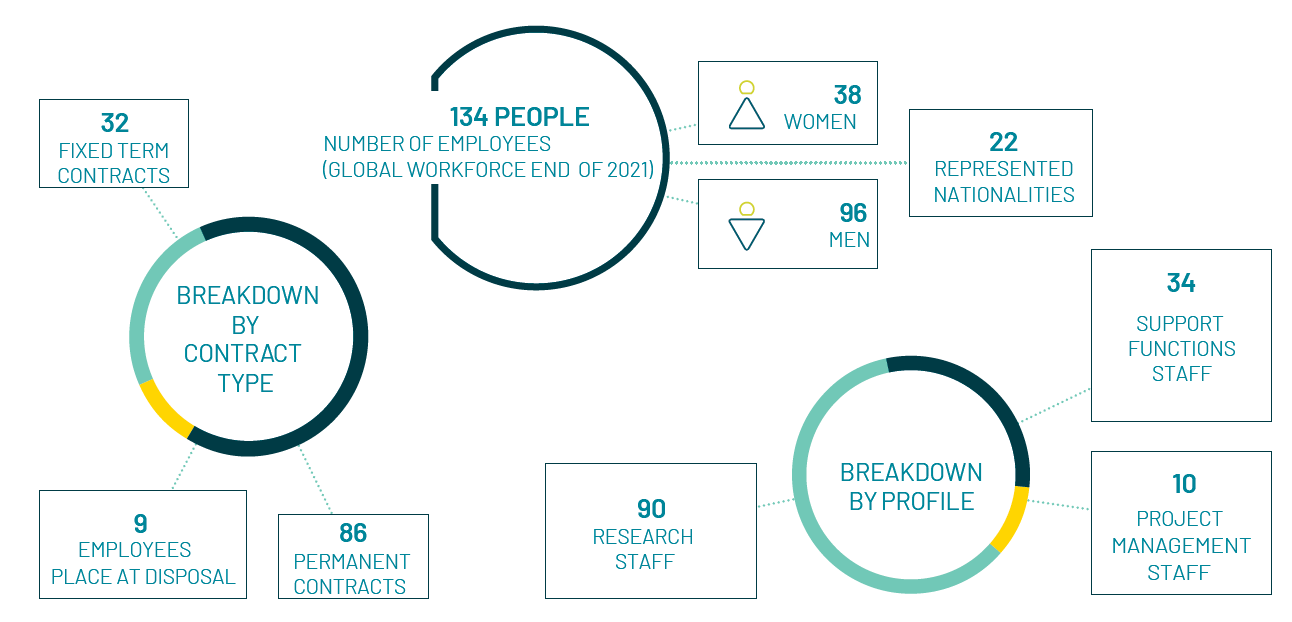 Date of figures : end of 2021
2019 Gender Equality Index: 75/100
2020 Gender Equality Index: 81/100
2021 Gender Equality Index: 84/100
2022 Gender Equality Index: 84/100
Daily life at IRT Jules Verne
Concerned about the continuous improvement of our teams, training is particularly important to us. It is the keystone of a research team that is always efficient and sharpened to new technologies. It covers a wide range of skills:
– Behavioral / soft skills: personal development, transversal management, team management, agile methods, etc.
– Technical & professional: scientific software, project management, deepening of skills on innovative processes (additive manufacturing, welding, composites, etc.)
The management of IRT Jules Verne is focused on the improvement of the quality of life at work for its employees. Thus, a home office system has been set up, introducing a more flexible organization for a better work-life balance.

Behind the scenes of IRT Jules Verne
IRT Jules Verne employees meet on various convivial occasions throughout the year: during festive events organized by our elected representatives of the Social and Economic Committee (CSE), but also during collective information or convivial times within the company. Our employees are keen cyclists, runners and swimmers, and they bring a team spirit to the work life through sport. IRT Jules Verne is represented in regional sporting events such as the Odyssea race, the streetcar race or the Audencia La Baule Triathlon.